A Provider of business solutions for the medical industry, K-DOD Korea Corp., announces the launch of the multi-functional Web Platform to connect Korean medical companies with the Asian market.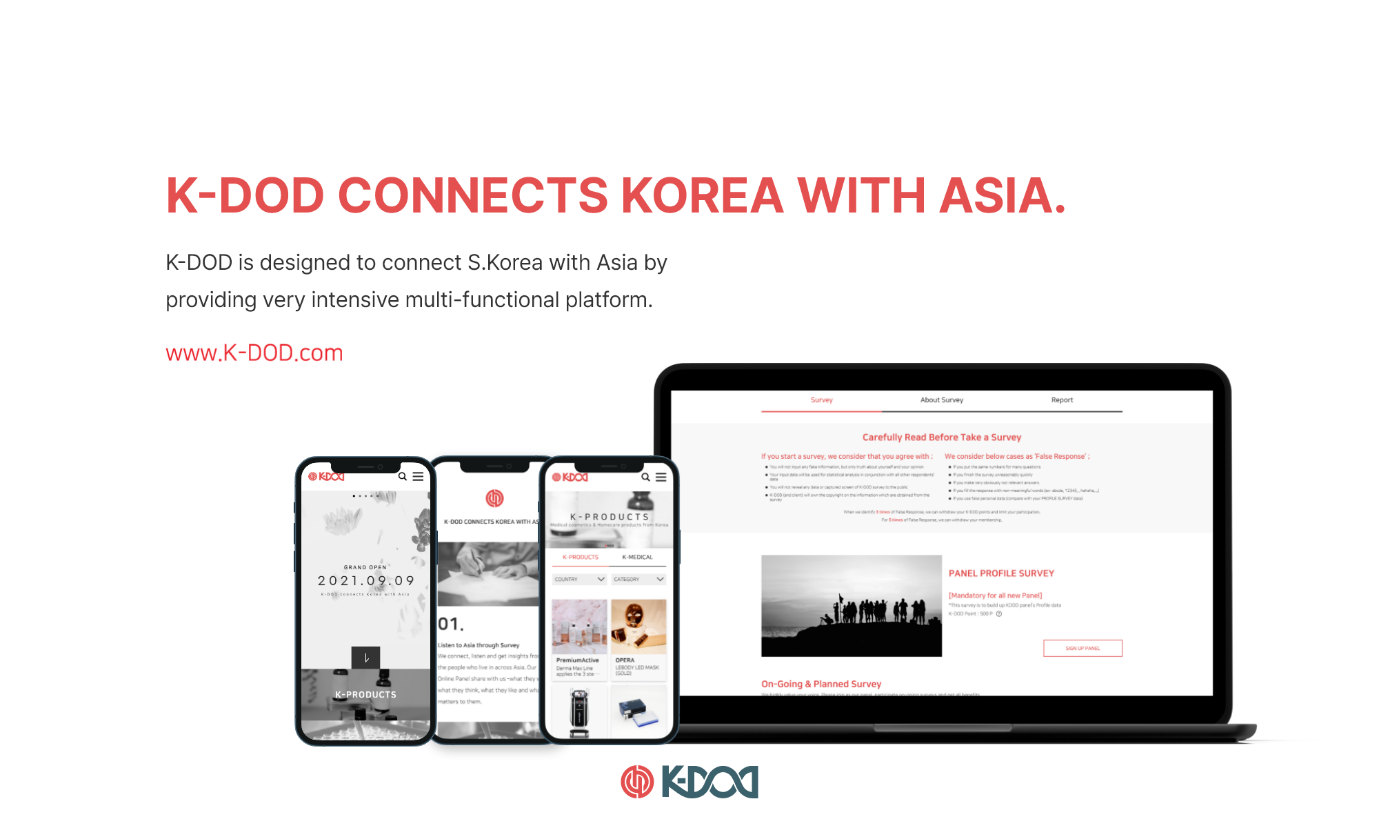 We're two years into the global COVID-19 pandemic and accessible healthcare is more important than ever before. People have become acutely aware of their health and wellness and are eager for ways to better protect themselves. In business era, digital platform, untact promotion and online customer engagement became undeniable movements.
This is where K-DOD comes in. The ultimate mission of K-DOD is to increase the well-being and overall quality of life of its customers all across Asia, whether doing this directly by granting access to K-Medical, K-Biohealth, and Medical Cosmetic products or acting as a business match up with related companies and furthering their reach.
Here at K-DOD, we recognize that there's a strong desire among those in Asia to better protect and treat themselves against disease and other medical risks. This is why we're looking to connect S.Korea with Asia and bring qualified health products directly to the customer.
There's a wealth of medical products, homecare products, and medical cosmetics that have all been approved by various governments around the world - Asia, Korea, Europe, and the US - that can help customers take better care of themselves. We want to get those products into the hands of those who need them.
Another service of K-DOD is an online survey. By taking an online survey, people in Asia can connect directly with us and communicate their situation, giving us insight into exactly what they want and need. These surveys also present a valuable tool in gathering feedback about the K-Products that we release in Asia. We want to know what's working, and more importantly, what isn't working. The pandemic has created uncertainly and unpredictability in the world of healthcare and receiving direct input from customers helps us know that we're moving in the right direction.
Connecting South Korea with various parts of Asia isn't just about delivering physical products, either. We're also bridging gaps between our products and localized Asian services that can offer even more insight into what is needed in their area. For example, what works for customers in Indonesia and the Philippines might not be suitable for customers in Kazakhstan and Uzbekistan. Establishing relationships with local services keeps us informed and ensures that we're providing the appropriate care.
Our website, which launched on September 9, 2021, allows both personal and business inquiries. We encourage any and all potential customers or partners to reach out and discuss what we can do for them and what we can all do to further the well-being of the people of Asia.
Website: https://www.K-DOD.com
Youtube: https://www.youtube.com/channel/UCk_XOIZxS-f6930RbM0c8Rw
Email: This email address is being protected from spambots. You need JavaScript enabled to view it.
Tel: +82.2.2633.1664
Fax: +82.504.849.2633
Address: 3rd fl, 177 Misagangbyeonhangang-ro, Hanam-si, Gyeonggi-do, S.Korea
Company name: K-DOD Korea Corp.